Ermes - Intelligent Web Protection, Turin's excellence in cybersecurity and the only Italian company selected by Gartner in the top 100 of the world's companies that exploit AI to detect and defend companies security against attacks, has been selected by Great Place to Work as one of the top 20 companies to work in according to millennials.

Great Place to Work is a company providing research, technology and organisational consulting that analyses workplaces by collecting and analysing employees' opinions and employee experience. The 2022 ranking for Italy, with Ermes Cyber Security in 19th place, is based on the opinions of over 94,000 employees belonging to 210 companies, of which 16,453 millennials. In these companies, the youth responded to the "Trust Index" business climate survey, expressing their opinion about the organization in which they work in and their working environment: the research has thus identified and rewarded the companies in which inclusivity and diversity find their place and expression. The company stands out thanks to an approach to work that can count on innovative processes that promote a balance between private life and work, and that focuses on young people and their potential.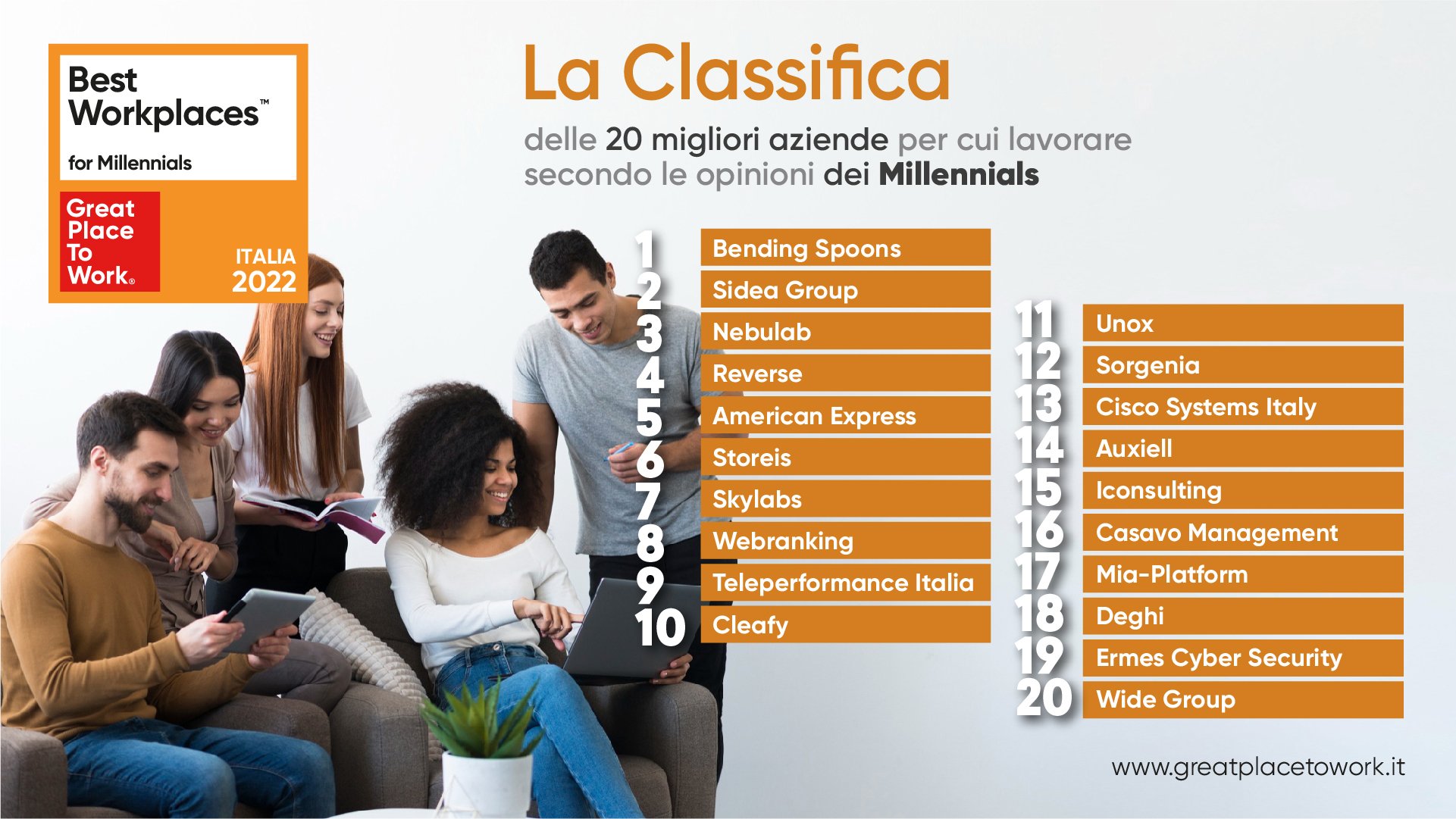 An award that confirms and precisely frames the company profile that Ermes - Intelligent Web Protection has built up over the years, as well as its success. From spin-off of Politecnico di Torino and and start-up incubated at I3P - where it was awarded best start-up of 2020 - to top 100 worldwide, the growth of Ermes was supported by a team of 5 in 2018, when the company was born, while today it counts over 30. In 2021 alone, there were 15 new hires in research and development, marketing and sales, and the year ended with a turnover of more than 1 million euros, leading the company to a growth of 200% by 2020. In October of this year, Ermes also won the IMSA 2022 Award, promoted by PNICube association and organized for this edition in collaboration with I3P.

"One of the things we care about most is the growth of people within the company, we are an innovative company and as such the people who work at Ermes must also be or become innovative", stated Hassan Metwalley, Co-Founder & CEO of Ermes Cyber Security. "We invest every year in training, we constantly encourage courses on issues chosen by employees and above all we encourage people to innovate, be proactive and not be afraid to take risks. Within this growth path, every employee in Ermes from 2023 will have a percentage of their working time dedicated to their own projects to innovate our products, processes and initiatives, with ideas that will be enhanced through in-house hackathons. Each project or initiative will then be evaluated and the best ones will be grounded by the different responsible teams."
Goals for 2023
Today, the challenge for Ermes - Intelligent Web Protection is to triple the size of the team from 30 to over 100 people, estimating that more than 80 per cent of these newcomers are millennials or even younger. This will involve relocating the business to a bigger site that can accommodate the recruitment planned to take place in 18 months.

"Italy is becoming an important player in the field of Artificial Intelligence applied to cybersecurity, and we are aiming for even more exponential growth that takes into account not only the end results but also the methods deployed to achieve them," added Hassan Metwalley. "For us, it is essential to build a new way of working for every employee, one that places them at the heart of the company, and to support this challenge from 2023 we will start a project we are particularly fond of, which is the opening of an Academy focused on training the cyber professionals of the future by improving not only their hard skills but, above all, their soft skills."