We are pleased to announce that the first phase of the Piemonte Valle d'Aosta Start Cup is officially open. It is the sixteenth edition of the competition for new entrepreneurs and we are partner with the initiative since the very beginning.

In this first phase of the "Ideas' Contest", you can enroll yourself on the Start Cup official platform. You should insert your information, the info of the team, the description of your idea and its development stage. In addition, there is the possibility to attach a document with more information that will be useful to identify your idea as for example: the knowledge of the idea and the originality of the project.
Who can participate?
The contest is for everybody who: study or teach at universities or research centers, aspire to become an entrepreneur, new companies' chiefs. The ideas must be part of these sectors: Life Sciences, ICT, CleanTech & Energy, Tourism and cultural industry.
To find out more, look at the official website that has all the requirements' details.
The I3P role
In this first phase, you will be able to choose I3P as your preferred incubator, which - if selected as the best ideas - will help you in building up the business plan. Indeed, the incubator's tutors will help you during the phase 2, "the business plan contest", where you have the chance to win prizes both in money and in services.
What are the prizes?
The best ideas will receive prizes in services, support and consultancy/training for the draft of a real business plan, which is the requirement of phase 2.
How to apply?
Go on the competition's official page and fill out the form with the data required in order to submit your innovative idea/project. For more information about the competition, please look at the infographic below or refer to the official Piemonte Valle d'Aosta Start Cup page.
You have limited time to apply your innovative idea: until the 22nd of June, h.18!
At the end of Phase 1, on June 22, there is no ranking and the best projects will be called by us, if you have chosen I3P.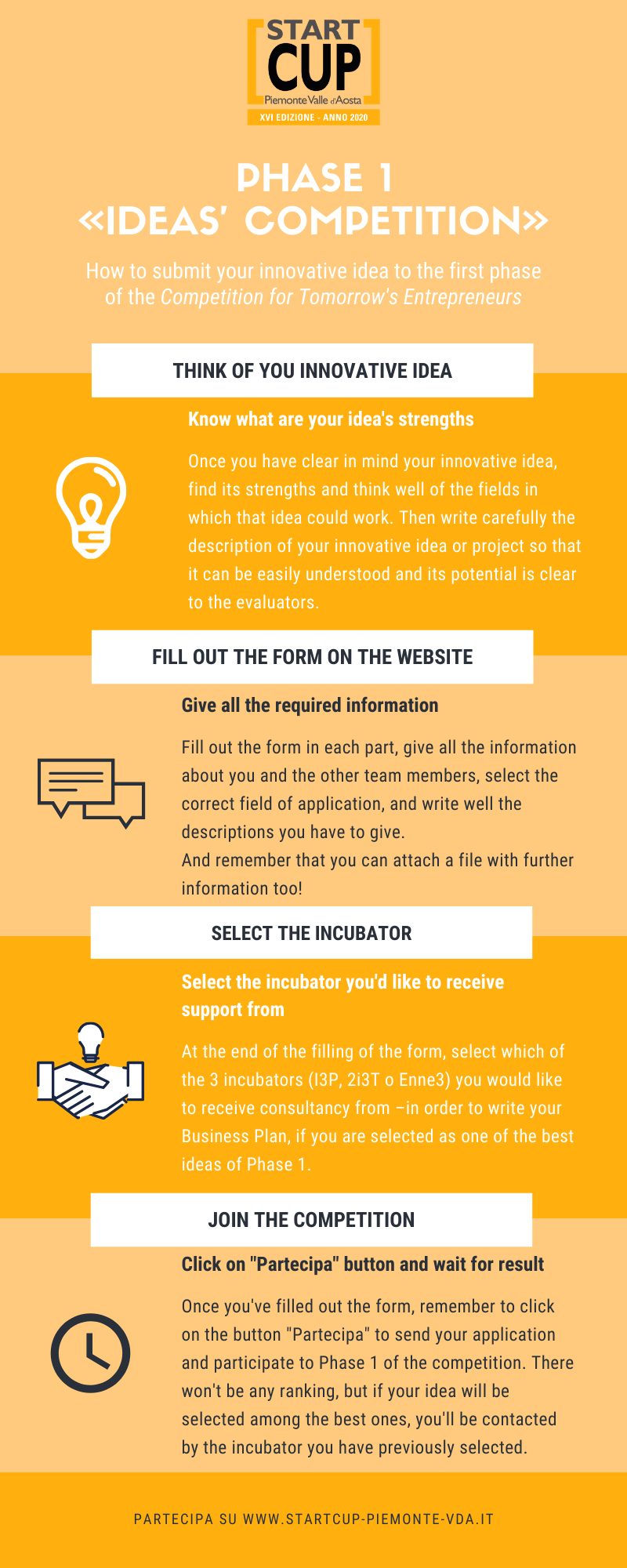 All incubator tutors, jurors and all parties involved in the competition have signed an NDA (non-disclosure agreement) and therefore every candidate's project submitted on the platform will be protected.