Scientific research plays a fundamental role in the development of society: from medicine to new technologies, from energy resources to climate change, the latest findings make it possible to tackle today's critical issues more precisely. Alongside research work, scientists' skill in communicating their findings clearly and effectively becomes increasingly important. It is therefore vital to promote and valorise the work of young male and female researchers, create numerous opportunities to meet and exchange ideas, and at the same time promote their research outside academic institutions.

The GiovedìScienza National Award, in its 12th edition in 2023, aims to be a stage for researchers under 35 who contribute with their work to the scientific and technological development of our country. The award is projected into the future by pursuing the goals of the 2030 Agenda for Sustainable Development, an action programme for both people and the planet. The call for entries is open from January 26th to February 28th, 2023.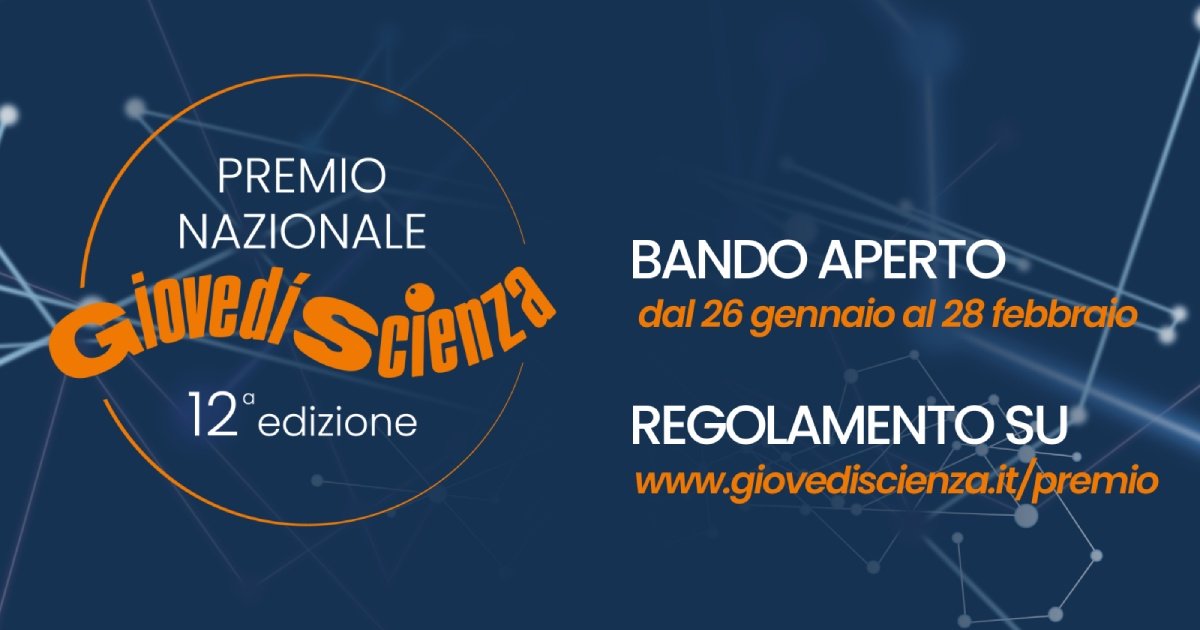 The GiovedìScienza National Award 2023 takes place as part of the 37th edition of GiovedìScienza and is organised in collaboration with Camera di Commercio di Torino, the business incubators of universities in Piemonte 2i3T, I3P, Enne3 and Fondazione LINKS, Club degli Investitori, BergamoScienza, Festival della Scienza, Fondazione Idis-Città della Scienza and Psiquadro. The 37th edition of GiovedìScienza is conceived and organised by Associazione CentroScienza Onlus, with the patronage of Città di Torino and Città metropolitana di Torino.

The award initiative is open to researchers under 35 who have achieved significant scientific-technological results working in an Italian research organisation and who, at the same time, have demonstrated competence in conveying this knowledge to the general public. The contest is divided into three phases: application, selection and competition, with over 100 referees involved in each edition. A technical jury, a popular jury and a committee of representatives from the innovation ecosystem will select the winners. There are four awards:
GiovedìScienza Prize: a prize of €5,000 for dissemination skills. The winner will be included in the schedule for the next edition of GiovedìScienza (2023/2024) with a dedicated conference.
Elena Benaduce Special Prize, dedicated to research work that stands out for having a direct or important impact on people's well-being and quality of life. Cash prize of €3,000.
GiovedìScienza Futuro Prize, awarded to the best viability study of potential research applications. Prize of €3,000 and a path of accompaniment aimed at the development of the project by one of the partners.
GiovedìScienza Industria 4.0 Prize, for those who develop a project proposal based on the "Industria 4.0" concept: prize of €3,000.
Applications must be submitted exclusively online in the "Premio" section on the website www.giovediscienza.it by 1 p.m. on Tuesday February 28th, 2023. The full announcement and the complete regulations of the Prize are available on the website as well.