On June 15, 2022, Viva Technology, one of the leading international events in the field of innovation and high technology, returns. Now in its sixth edition, after registering the participation of more than 140,000 visitors from 149 different countries in 2021, this year's fair will once again take place in a hybrid format, online and in-presence in Paris, involving small and large companies, investors and world-class guests.

The stage for innovation
Co-organized by Publicis Groupe & Groupe Les Echos, and dedicated to startup growth, digital transformation and technological innovation, each year the VivaTech event brings together many prominent profiles of corporate managers, startuppers, venture capitalists and researchers with the aim of transforming global business and society.

The 2022 edition will take place from June 15 to 18 in hybrid mode and will have among its main themes mobility, space, healthcare, the metaverse, Web3, cybersecurity, how to work in the future, scaling-up for start-ups and the "Race to net zero" campaign, aimed at carbon neutrality.
The opportunities for businesses
In 2021, the event reached 119 million people worldwide, generating more than 1.7 billion views thanks to over 400 top speakers, including Tim Cook (Apple), Eric S. Yuan (Zoom) and Mark Zuckerberg (Facebook).

In the 2022 edition, there will be many spaces and initiatives specifically aimed at young innovative companies (Open Innovation Lab, Hall of Tech, Accelerate Solutions, Startup Village, Startup Corner...), with opportunities to meet with investors and worldwide visibility through online streaming.
"After an outstanding 2021 edition, we are further enriching the event experience for our visitors and partners, both in person and digitally," explained Julie Ranty, general manager of VivaTech, Maurice Lévy and Pierre Louette, co-presidents. "Reconnecting and bringing together the world's biggest innovation players remains our priority, as does continuing our key role as an accelerator of digital transformation and start-up growth. In a rebuilding world, our mission to put innovation at the service of big social, environmental, economic and human issues feels more essential than ever."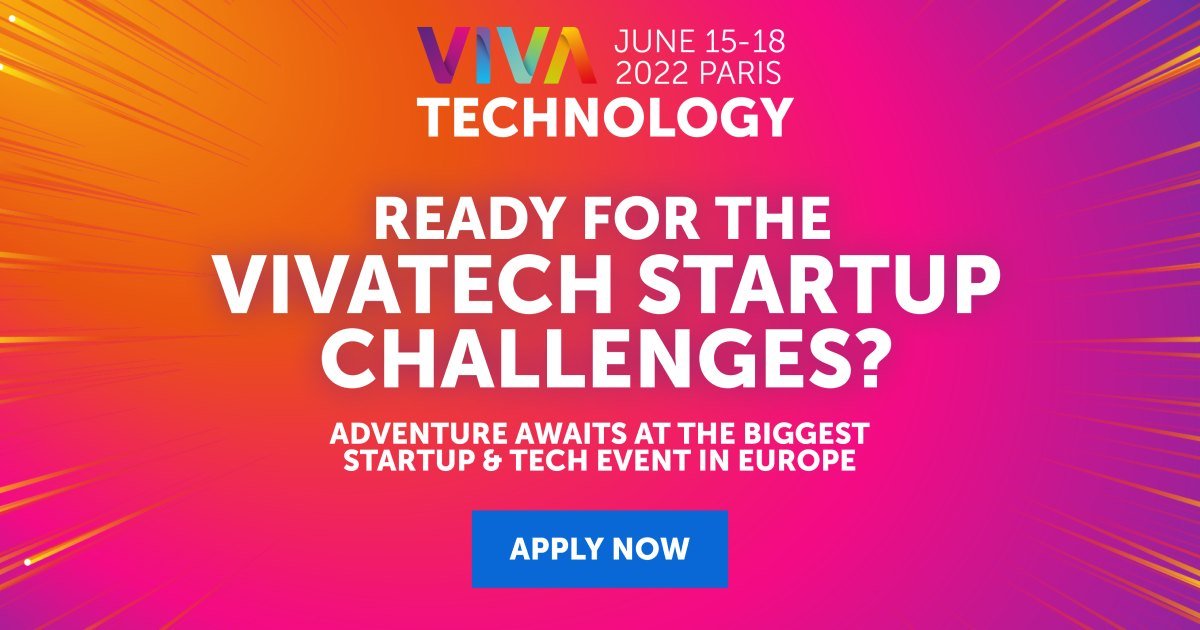 The VivaTech Startup Challenges
For the sixth year in a row, there will also be the VivaTech Startup Challenges, in which young companies are invited to submit their innovative answers to challenges proposed by big companies around the world and by Viva Technology itself. The challenges are the Open Innovation tool through which VivaTech connects the best startups with industry leaders, corporate and institutional partner networks in order to scale their business together with them.
To date, four challenges launched in December are still open and all start-ups are invited to participate, both with projects in the launch phase and already established, to be selected in the finals and get a dedicated exhibition space during the days of the event. Among them are: